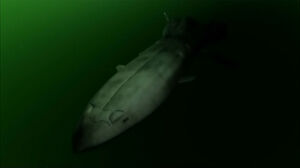 The TDD-1 Tuatha de Danaan is the world's most advanced submarine and is Mithril's flagship. It is classified as an Assault Landing Submarine and houses a variety of AS, aircraft and other small vehicles. In addition to its revolutionary hull design, the Danaan possesses a sophisticated Artificial Intelligance called Dana. In a sealed area of the ship called the Lady Chapel, a TAROS device is installed for Whispered use.
It was originally an abandoned Soviet submarine but was procured and rebuilt with Teletha Testarossa's knowledge.
Technology & Combat Characteristics
History
Known Crew
Known Aircraft & Arm Slaves aboard
4 FAV-8 Super Harriers
4 RAH-66 Commanches
6 MH-67 Pave Mares
Trivia
Tuatha de Danaan are actually a race of gods from Irish mythology. They were founded by the goddess Danu.
Gallery
Ad blocker interference detected!
Wikia is a free-to-use site that makes money from advertising. We have a modified experience for viewers using ad blockers

Wikia is not accessible if you've made further modifications. Remove the custom ad blocker rule(s) and the page will load as expected.