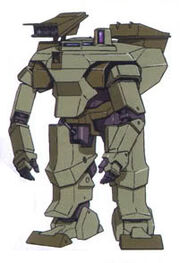 The C3-5 Mistral is a second generation Arm Slave operated mainly by France.
Development
The C3-5 is unique in construction, unlike the M6 Bushnell, Rk-92 Savage and European counter-parts like the Drache and Cyclone the C3-5 is only vaguely humanoid, as it lacks a real "head" and has an unusually shaped torso. While with slightly better armor, the C3-5 is also below par of other Arm Slaves in terms of speed.
Operational History
Similar to the Rk-92 Savage the Mistrall II has at times fallen into the hands of dictatorships and terrorists, as seen especially in Mallias.
Specifications
Gallery
Ad blocker interference detected!
Wikia is a free-to-use site that makes money from advertising. We have a modified experience for viewers using ad blockers

Wikia is not accessible if you've made further modifications. Remove the custom ad blocker rule(s) and the page will load as expected.